The Taming of the Queen by Philippa Gregory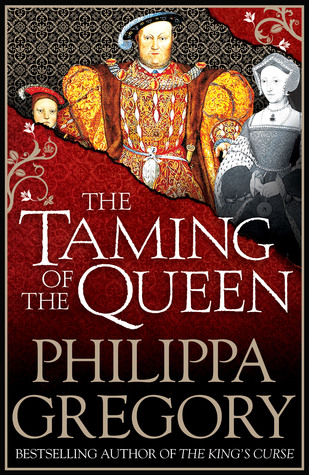 Addition: Audiobook
Genre: Historical fiction
Rating: 3 out of 5
Synopsis:
Why would a woman marry a serial killer?

Because she cannot refuse…

Kateryn Parr, a thirty-year-old widow in a secret affair with a new lover, has no choice when a man old enough to be her father who has buried four wives – King Henry VIII – commands her to marry him.

Kateryn has no doubt about the danger she faces: the previous queen lasted sixteen months, the one before barely half a year. But Henry adores his new bride and Kateryn's trust in him grows as she unites the royal family, creates a radical study circle at the heart of the court, and rules the kingdom as regent.

But is this enough to keep her safe? A leader of religious reform and a published author, Kateryn stands out as an independent woman with a mind of her own. But she cannot save the Protestants, under threat for their faith, and Henry's dangerous gaze turns on her.The traditional churchmen and rivals for power accuse her of heresy – the punishment is death by fire and the king's name is on the warrant…

From an author who has described all of Henry's queens comes a deeply intimate portrayal of the last: a woman who longed for passion, power and education at the court of a medieval killer.
This is number 4 in the Tudor Court series by Philippa Gregory, and the star of this novel is Kateryn Parr – Henry VIII's six and final wife. Shortly after her second husband dies, she is summoned to court to marry the King. The problem is, he is a very dangerous man. He has killed two wives, watched one die in child birth and divorced two others. If he gets bored of you, he can get rid of you, no questions asked. Kateryn has to be very careful in all she does. However, she is ambitious. She wants to see reform to the church, she wants to study and she wants to write. Plus, she is in love with another man; but if this knowledge gets out she could die.
I think I have enjoyed all the novels by Philippa Gregory that I have read, and this one is no exception. It wasn't my favourite though. There were times when I felt the storyline was a bit slow and I found myself losing a bit of interest. However, the ending made up for it. It was dramatic and tense. It is common knowledge that Parr survives the King, but I found myself desperate to know she does it, as he is not happy with her all the time. The drama and suspense was really good. There were elements of this story I didn't like though. I didn't find the sex scenes added anything to the story. They were a bit too descriptive for my liking, and too frequent.
As a Christian, I did find the church debate throughout the book really interesting. Henry VIII made the Church of England, and placed himself at the head of it, when he wanted to divorce Catherine of Aragon. As an old man though, he was still thinking of the changes he could make the church – does he make the country Catholic again, or does he go down the Lutheran way of thinking? Kateryn was a reformer, but not all of Henry's advisors were, and she found herself walking a difficult and potentially dangerous path.
I wasn't a massive fan of Kateryn. She was quite arrogant and proud. However, she was the only queen to unite the Tudor children, so she should be commended for that. I really didn't like Henry. He was a mean, vindictive and untrusting man, who would kill you without any thought. Goodness, you wouldn't want to be in Parr's position – having to marry him because he is King, then spending all her time trying to stay alive. There were scenes in the book I didn't like much either – particularly how Henry punished Kateryn.
I am rating this book 3 out of 5. As I have said, there were times in this book I lost interest, but overall, this was a good read. I didn't know much about Parr, so it was an education for me. I also found the theology debates really interesting. The outcome of this book was obviously not a surprise, but it was a good read nevertheless; and I will be looking to read the other books in the Tudor Court series.