The Delirium Trilogy by Lauren Oliver
Delirium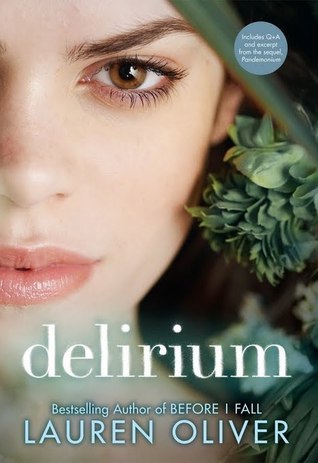 Addition: E-book
Genre: Young adult
Published: 2011
Rating: 3 out of 5
Synopsis:
Ninety-five days, and then I'll be safe. I wonder whether the procedure will hurt. I want to get it over with. It's hard to be patient. It's hard not to be afraid while I'm still uncured, though so far the deliria hasn't touched me yet. Still, I worry. They say that in the old days, love drove people to madness. The deadliest of all deadly things: It kills you both when you have it and when you don't.
I wasn't sure what to expect when I started reading this novel. I'd had it on my Kindle for a while and then a friend mentioned how good it was and I thought, "OK, I must read that book." To be honest, it wasn't what I thought it would be like. I guess I imagined it would be like the Divergent series, or the Hunger Games trilogy – a novel with action and war. In some ways, it was similar to those trilogies as it is a dystopia novel, but that seemed to be where the similarity ended. It was more a love story than anything else. I found the beginning slow and the romance a bit dull – although the ending was good. It took a while to get going. I expected more danger in the book and didn't get it until the last few pages. Although this wasn't a bad book, it didn't live up to my expectation of it.
The characters didn't stick out in my mind much either. I could take them or leave them – except perhaps Grace, Lena's mute cousin, who was so sweet. Her role at the end of the novel was amazing! I liked Lena, and her best friend Hana, but there didn't seem to be anything particularly special about them.
Having been quite critical about this book, I did enjoy it enough to get the second book out the library.
Pandemonium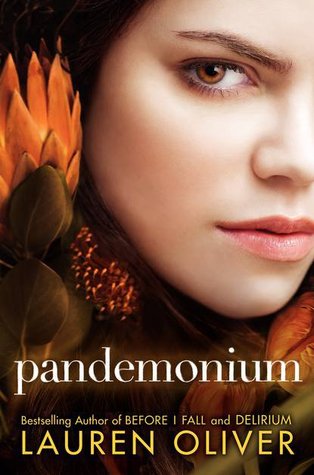 Addition: E-book
Genre: Young adult
Published: 2012
Rating: 4 out of 5
Synopsis:
I'm pushing aside
the memory of my nightmare,
pushing aside thoughts of Alex,
pushing aside thoughts of Hana
and my old school,
push,
push,
push,
like Raven taught me to do.
The old life is dead.
But the old Lena is dead too.
I buried her.
I left her beyond a fence,
behind a wall of smoke and flame.
I enjoyed Pandemonium a lot more than Delirium. Lena has escaped from Portland and the dystopia society that she was living in. Here, there are no rules, no set homes and out here, you are the enemy. This novel contained a lot more of what I expected in the first book. There is action, fear and danger. Lena is fighting for a cause, healing a broken heart, and of course, falling in love again. I thought Pandemonium had a lot more interesting content than Delirium. It was more exciting and much more gripping. Lena finds herself trapped and fighting to survive, there were new characters and a completely new way of life that Lena has to learn to adjust too.
Oddly, I disliked Lena more in this book than I did in the first one! Taken out of her safe home, she is fearful and grumpy. She acts like a sulky teenager a lot in this novel. I did like Raven though, a fearless leader, and Tack, her side-kick. I also liked Blue – who was a lot like Grace – and like with Grace, I found myself feeling so sad for Blue.
There is a predictable cliff hanger at the end of Pandemonium, yet it was brilliant! This book left me wanting more, so it was good news that there is a third book in this series!
Requiem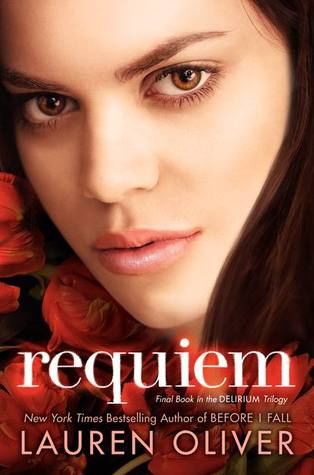 Addition: E-book
Genre: Young adult
Published: 2013
Rating: 3 out of 5
Synopsis:
Now an active member of the resistance, Lena has transformed. The nascent rebellion that was underway in Pandemonium has ignited into an all-out revolution in Requiem, and Lena is at the center of the fight. After rescuing Julian from a death sentence, Lena and her friends fled to the Wilds. But the Wilds are no longer a safe haven. Pockets of rebellion have opened throughout the country, and the government cannot deny the existence of Invalids. Regulators infiltrate the borderlands to stamp out the rebels.

As Lena navigates the increasingly dangerous terrain of the Wilds, her best friend, Hana, lives a safe, loveless life in Portland as the fiancée of the young mayor. Requiem is told from both Lena and Hana's points of view. They live side by side in a world that divides them until, at last, their stories converge.
Requiem is written differently to the first two books in this trilogy. This time, the novel follows both Lena in the Wilds, and Hana in Portland, about to get married. Hana has been cured, Lena has not. They are no longer friends or connected in any way, in fact, they barely think of each other. Yet their lives will become entwined again.
This book had a lot of promise and started so well, yet I found that by halfway I was ready for the story to move on. It started to drag, and felt like it was repeating itself. Again, like Delirium, this book was also a big love story – who would Lena chose? There were revelations in this book and I did enjoy jumping between Lena and Hana, but I did think it took too long for the final climax to happen. I also felt that the ending was rushed. I was left asking questions, and I hate that in a book!
The Delirium Series
I did enjoy this series, I just didn't like it as much as the Divergent series or the Hunger Games series. I was hoping for more from this book than I got. Reflecting on the series, there isn't anyone that stands out and I still find it annoying that the ending was so abrupt. I would rate this series 3 out of 5 because it was good, it just wasn't what I expected, and at times I felt the books were similar and I wanted the stories to move on.