2016 Reading #2: After You by Jojo Moyes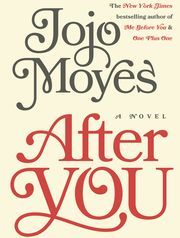 Title: After You
Author: Jojo Moyes
Published: 2015
Genre: Fiction
Rating: 2 out of 5
Synopsis:
How do you move on after losing the person you loved? How do you build a life worth living?
Louisa Clark is no longer just an ordinary girl living an ordinary life. After the transformative six months spent with Will Traynor, she is struggling without him. When an extraordinary accident forces Lou to return home to her family, she can't help but feel she's right back where she started.

Her body heals, but Lou herself knows that she needs to be kick-started back to life. Which is how she ends up in a church basement with the members of the Moving On support group, who share insights, laughter, frustrations, and terrible cookies. They will also lead her to the strong, capable Sam Fielding—the paramedic, whose business is life and death, and the one man who might be able to understand her. Then a figure from Will's past appears and hijacks all her plans, propelling her into a very different future. . . .

For Lou Clark, life after Will Traynor means learning to fall in love again, with all the risks that brings. But here Jojo Moyes gives us two families, as real as our own, whose joys and sorrows will touch you deeply, and where both changes and surprises await.
Review:
This book is the sequel to Me Before You, a novel which I loved. I was so excited to see that Jojo Moyes had released a follow up book. And then I read it…
I did not enjoy this book. I found it completely unrealistic; with unhappy story lines and characters I didn't really like. I just did not get into this book at all. We return to the life of Lou; Lou, who is depressed and mourning Will. He is a haunting her, all the time; and in a moment of craziness – to make herself feel alive – she tries to walk along a ledge at the top of a several storey high block of flats drunk, and she falls. Where will life take her next? She meets a lovely paramedic, she meets a member of Will's family she knew nothing about and spends all her time trying to help her, and her Mum seems to have a midlife crisis.
I think there was too much going on in the book. There were too many story lines, too many people suffering and having some major crisis. The story about her Mum finally stepping out of her shell, of "finding herself" was too much for me. I didn't care that she wasn't shaving her legs. For me, it didn't add anything to the story.
And the story of Sam, the lovely paramedic. Would she really have been allowed to go in the ambulance with him? Probably not. And would she have seen what she did? Helped out like she did? I doubt it. For me, it seemed so unrealistic. And this spoilt the story for me.
Gosh, I don't seem to have much that is positive to say about this novel. I finished it… I wanted to get to the end. I guess I wanted to know how Lou's life was going to turn out. But at the same time I was reluctant to pick this book up. This book is sad. It is quite unrealistic. And actually, at times I was bored. I really wanted to enjoy this book, but I didn't.
I am rating this novel 2 out of 5. To be honest, (and I write this sadly) I wish Jojo Moyes had just left this sequel well alone.