Miracle at the Higher Grounds Cafe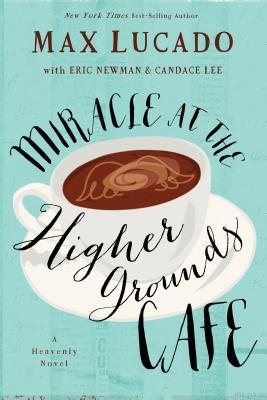 Addition: Netgalley review e-book
Genre: Christian, fiction
Rating: 4 out of 5
Synopsis:
What if you could ask God anything? What would you ask? And how would he answer?

Chelsea Chambers is on her own. After a public split from her NFL superstar husband, Chelsea takes a bold step out of the limelight and behind the counter of the Higher Grounds Cafe, an old-fashioned coffee shop in dire need of reinvention. But when her courage, expert planning, and out-of-this-world cupcakes fail to pay the bills, this newly single mom finds herself desperate for help. Better yet, a miracle.

Then a curious stranger lands at Chelsea's door, and with him, an even more curious string of events. Soon, customers are flocking to the Higher Grounds Cafe, and not just for the cupcakes and cappuccino. They've come for the internet connection to the divine. Now thecafe has become the go-to place for people in search of answers to life's biggest questions.

When a catastrophe strikes and her ex comes calling, Chelsea begins to wonder if the whole universe is conspiring against her quest to make it on her own. After a shocking discovery opens her eyes to the unseen world around her, Chelsea finds the courage to ask, and heaven answers in a most unexpected way.
I received this book from Netgalley to provide an honest review.
I have read several books by Max Lucado over the past few years but I have never read a fiction novel by him before. I didn't know what to expect. I really like his theological books – I find them so easy to read and very helpful for my walk with God, but what was his fiction going to be like? Well, I loved this book!
This story follows Chelsea, recently single with two children, reopening her family's cafe. She has taken a big, risky step, and things don't really go to plan. She is helped by Manny, her strange new employee. He gets a very interesting internet router installed. This connection only loads one page: the God Blog. This is a place where you get the opportunity to ask God just one question. This draws in the crowds, but still leaves Chelsea at sea when it comes to her private life and her faith. This story follows her through this transition into a new life. Will she repair her marriage? Will she find God? Will her business survive?
This book had me gripped from the start. I liked Chelsea. I felt for her as she struggled with her public break-up, as she had to face her husband's infidelity in front of the world, and I really wanted her to succeed in her new cafe. She had a damaged outlook on life, and I liked watching her soften as the book went on. I thought she was well written and so easy to like. I could imagine her in real life, facing the everyday struggles. She had to face debt, hostility from family and her own shame. This book took her on quite the adventure and I enjoyed watching her walk through this season.
This book has two elements: the natural world and the supernatural. I seem to be reading a lot of books at the moment which feature guardian angels – Katy Hollway's The Remnant Chronicles and Frank E. Peretti's This Present Darkness. This novel also has guardian angels, and I love how Lucado uses the angels to explain how God is always with us and always by our side. I liked the element of the supernatural, it added another level to the book. Lucado was able to use this idea to show darkness can creep into our lives and yet how with one prayer the light pierces the darkness.
This is a great story. Like I have said, I was gripped from the start. I read this book in one day – each time I could grab this book I did. This was easy to read and so enjoyable. Some of the storyline was a bit predictable and some of it seemed a little far fetched, but I found it really enjoyable. What I liked most was that at the end of the story, Lucado takes us to Jesus on the cross and reminds us of what He did for us there. We never have to walk through life alone because through Jesus' death, He made a way for us to have a relationship with Father God. It was a gentle and powerful reminder of such an amazing truth.
I am rating this book 4 out of 5 because it is a great read. I did find some of it a bit predictable and some of it a little unbelievable, yet I loved this story. It was so good. Thank you Netgalley for letting me read it. This is a highly recommended read.