Before Amen by Max Lucado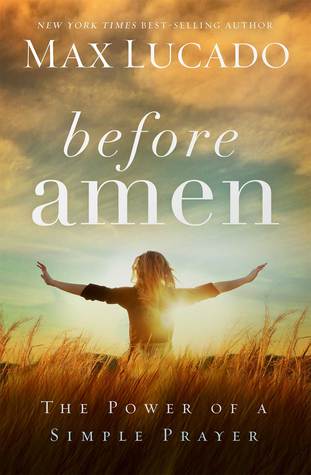 Addition:Netgalley review e-book
Genre: Christian, non-fiction
Rating: 4 out of 5
Synopsis:
We all pray . . . some.
We pray to stay sober, centered, or solvent. When the lump is deemed malignant. When the money runs out before the month does. When the marriage is falling apart. We pray.

But wouldn't we like to pray more? Better? Stronger? With more fire, faith, and fervency?

Yet we have kids to feed, bills to pay, deadlines to meet. The calendar pounces on our good intentions like a tiger on a rabbit. And what about our checkered history with prayer? Uncertain words. Unmet expectations. Unanswered requests.

We aren't the first to struggle with prayer. The first followers of Jesus needed prayer guidance too. In fact, prayer is the only tutorial they ever requested.

And Jesus gave them a prayer. Not a lecture on prayer. Not the doctrine of prayer. He gave them a quotable, repeatable, portable prayer. Couldn't we use the same?

In "Before Amen" best-selling author Max Lucado joins readers on a journey to the very heart of biblical prayer, offering hope for doubts and confidence even for prayer wimps. Distilling prayers in the Bible down to one pocket-sized prayer, Max reminds readers that prayer is not a privilege for the pious nor the art of a chosen few. Prayer is simply a heartfelt conversation between God and his child. Let the conversation begin.
I received this book from Netgalley to provide an honest review.
I requested Before Amen from Netgalley because I really like Max Lucado. I find him incredibly easy to read and all of the books I have read have made an impact in my life. I was really excited when I noticed that the Proverbs 31 Ministries Online Bible Studies was going to do a four week study through the book Before Amen. I decided as I had the book to review I would coincide it with this study, and I am really glad I did.
This is a book on prayer. It is clear, concise and easy to read. As the synopsis says, the only tutorial the disciples asked Jesus for was on prayer, so it is helpful for us to study prayer too. This book looks at all types of prayer and gives us different ways to pray. I really liked the "Pocket Prayer":
This is such a simple, helpful prayer that is easy to remember and covers all bases. This prayer is used throughout the book. Alongside it, are other important truths:
I'm not going to have a review full of quotes from the book on pretty backgrounds, but you get the idea – this book is pure class. It is easy to read, clear and honest. The book looks at how to pray, our attitude towards prayer, how to pray for others and gratitude. I didn't have a problem with any of the theology in this book. I agreed with all Lucado all the way through and it was a great reminder of how important prayer is.
I really liked the study questions too. It gave me a chance to process what I had read, think about my life and attitudes, and it gave me a chance to be before God.
This book is full of Scripture. This book is fully rooted in the Bible, and I really liked that. I was able to flick through my Bible and check out some great Scriptures that I could apply to my life.
If you want a book on prayer, this is it. Lucado is honest about his prayer life and he keeps taking us back to the Bible. This is not a long book, it only has nine chapters, but it was helpful and easy to read. The theology is easy to understand and apply to our lives. This is a great book on prayer and how it can change our lives and our walk with God.
It is easy to rate this book 4 out of 5 because it is simply a stunning book on prayer. Thank you Netgalley for letting me read it, and thank you Max Lucado for writing it, and helping me with my prayer life.